Come autumn, you're likely to have mixed feelings. Like: "Okay, fine, I get it, time to close up the pool. The kids are done with baseball but at least we have soccer to look forward to. And oh, the joy of fall foliage rides!"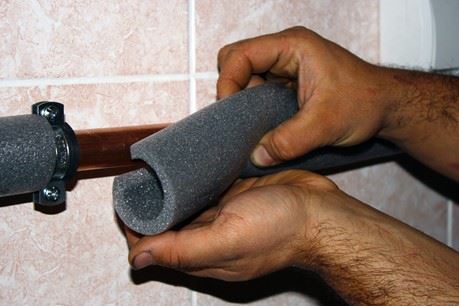 You get the idea. But like any other season, fall isn't just about fun and games. You have some chores cut out for you and the sooner you check them off your list, the better prepared you'll be for winter.
Take, for example, pipes in unheated areas like your attic, basement, and crawl spaces. Try as they might go it alone, they need help so as not to freeze, crack, and burst. So, before the first freeze, drain and disconnect all hoses, drain exterior faucets and underground sprinkler systems, and insulate any exposed pipes in unheated areas of your home.
Here are some additional steps you can take to help prevent frozen pipes:
Open cabinet doors. When you anticipate below-freezing temps, open the cabinet doors below sinks to allow warm air to circulate around exposed pipes, especially those located near an exterior wall.
Let faucets trickle. In general, moving water cannot freeze. So, if the outdoor temp has dipped toward or below freezing, turn a few faucets on to a slow trickle; just five drips per minute is enough.
Wrap exposed pipes. If the plumbing pipes are not yet insulated and you suspect they might have started to freeze, wrap them in hot, damp towels to loosen any ice that might have started to form.
Add heat. If towels aren't doing the trick, use a space heater or hairdryer to apply heat where it's needed. Do not use anything that produces a direct flame, like a blow torch, as it could damage the pipes and connections, and cause even greater damage.
Shut off the water supply. If you suspect pipes are already frozen, as evidenced by no water flowing from a faucet, shut off the main water supply and close all exterior water sources.
Call a professional. If pipes have frozen, you suspect a crack, are already dealing with a burst pipe, or simply suspect you'll do more harm than good trying to remedy the situation, it's time to contact a pro.
And that pro, throughout Harford, Baltimore, and Upper Arundel Counties, is Mike's Plumbing & Heating. We know exactly how to prevent and repair frozen pipes while taking care of all your other home plumbing and heating needs. Call today or anytime for service.