Plumbing Installation in Baltimore, MD
Quality Pipe & Fixture Installation Service In Baltimore & Harford Counties in Maryland
Sometimes you buy a new plumbing fixture because things fall apart. And sometimes you upgrade your plumbing simply because you're ready for something new and different. Whatever your reasoning, count on Mike's Plumbing & Heating Service Inc. to get the job done right the first time.
Choose our Baltimore plumbers when you need to install:
Sinks
Faucets
Bath tubs
Showers
Showerheads
And more
When you are installing plumbing in your kitchen or bathroom, you need someone who can give you great advice, help you plan for now, and make sure your new water heater, shower, or toilet will take you well into the future – without you regretting your purchase one iota. Our Baltimore plumbing experts can provide this information.
Schedule your plumbing installation by calling (410) 541-1811 or completing our quick and easy online form.
We Provide Outstanding Plumbing Services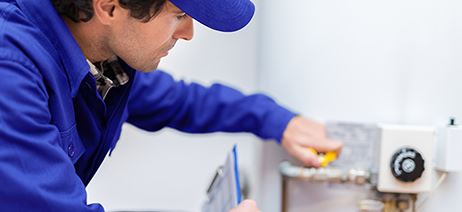 For over 35 years, our plumbers have been providing skilled and efficient plumbing installation services. When you choose to work with an expert from Mike's Plumbing & Heating Services Inc., you are receiving friendly and comprehensive customer service every time.
Signs You Need to Replace Your Plumbing
Knowing when to contact a professional for plumbing installation/replacement services can be a tricky proposition. Signs that your system needs assistance can range from a variety of areas such as:
Frequent clogs
Foul odors
Reduced water volume
Rusty pipes
When these types of issues arise, it's best to contact a plumbing expert in order to address any potential damage or health risks the issue may be causing. Additionally, outdated fixtures are an indicator that you should consider seeking out a replacement. If your system is over 10 years old, it is likely running inefficiently or unable to keep up with increased demand and thus contacting a professional can help to ensure optimal quality and performance.
Benefits of Upgrading With New Plumbing Installation
Installing new plumbing has several benefits. Not only does it help boost the efficiency of your home's water system, but it can also help make sure that your pipes don't become severely damaged or corroded. It also helps ensure that your pipes will last for a long time. This can significantly reduce costs associated with plumbing repairs in the future. Investing in new plumbing installations can lead to improved water pressure and better flow from showers, toilets, and other fixtures throughout your house. Upgrading causes you to get more out of existing systems, saving you time and money over the course of the year.
Mike's Plumbing & Heating Service Inc. guarantees:
Written price quotes
Customer satisfaction
Backflow prevention to help keep your water safe to drink
Water filtration and softening
Water pressure adjustments
Water heater safety and performance inspections
Ongoing plumbing maintenance to help minimize costs and extend equipment life
Regardless of job size, we have a reputation for quick delivery and superior craftsmanship. From your initial consultation to the completion of your Baltimore plumbing installation, you can rely on our technicians to maintain a line of open and honest communication. If the job looks as if it may cost more than our original estimate, we will let you know before going any further. You will never receive surprise charges on your bill.
Don't wait! Call (410) 541-1811 today and let our experts get started on that plumbing installation project.
Experience the Difference
Trusted for Over 35+ Years
We Pride Ourselves in Our Workmanship

Customer Satisfaction Guarantee

Experienced and Licensed Plumbers

Red Carpet Treatment Every Time

Safety Precautions Practiced at All Times

Providing Quality Service Since 1984